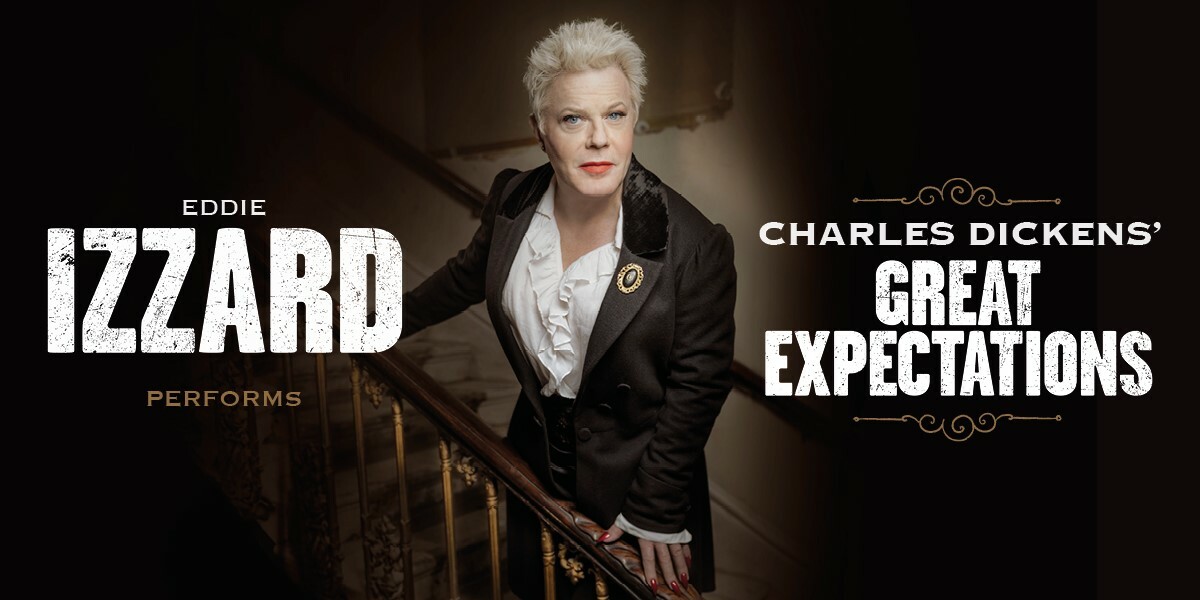 Book tickets for Great Expectations starring Eddie Izzard (and Eddie Izzard, and Eddie Izzard) at London's Garrick Theatre today!
Keep me updated
We'll tell you as soon as tickets go on sale:
Following a sold-out New York run Eddie Izzard returns to the West End stage for six weeks only playing 19 characters in Charles Dickens' Great Expectations, a classic tale of convicts, mystery, friendship, rivalry, unrequited love, revenge, and redemption.
Actor, comedian, and multi-marathon runner Eddie Izzard's boundary-pushing career spans all of these with record-breaking comedy tours and critically acclaimed film, TV, and theatre performances. But few know that acting was her first love. This show offers the chance to see Eddie in a solo performance of the master storyteller's beloved epic, Great Expectations.
Eddie, who is dyslexic, had never read a great work of literature, but knowing that she was exactly 150 years younger than Dickens (7 Feb 1812 to 7 Feb 1962) decided to start by reading Great Expectations. She was then inspired to develop it as a solo performance for the stage.
Dickens' novel was adapted for the stage by Mark Izzard. Director Selina Cadell said, "I find the combination of Eddie Izzard's idiosyncratic wit and Charles Dickens' ingenious storytelling irresistible and am looking forward to sharing it with audiences.
Age restriction
Children under the age of 15 are required to be accompanied by a responsible adult in seats adjacent to each other
Running time
2 hours 15 minutes (including interval)
Performance dates
24 May - 01 July 2023
Customer
Reviews
50 reviews
4.7
'⭐⭐⭐⭐ 'Eddie Izzard's glorious solo Great Expectations is a witty, respectful take on Dickens.''

'⭐⭐⭐⭐ 'Eddie Izzard seduces in charismatic one-woman show… Izzard winds us in intelligently and expertly so that this familiar story casts its spell over us anew.''

Garrick Theatre Safety Policy
Health & safety measures
Regular visible cleaning of all touchable surfaces before and after performances
Paperless or print at home tickets
Pre-order food and drinks online
Availability of hand sanitiser